Hackday 2020
Back in December, Lyst ran our first virtual Hackathon, and it was awesome. We were all surprised by the creativity and the amazing ideas everyone had and how people worked together in an inclusive and fun way.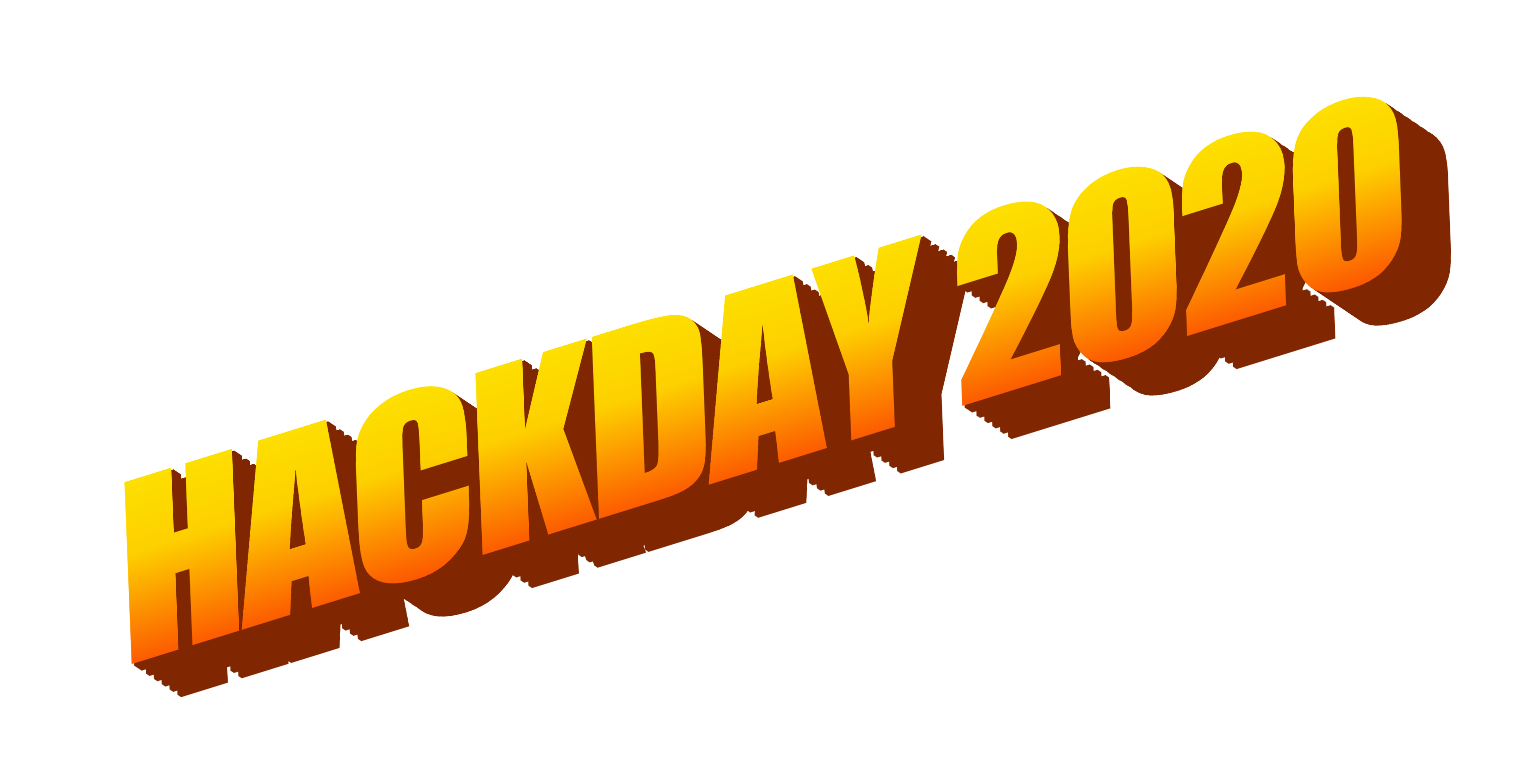 When you try to organise a company-wide event, or any event really, you need to think about what you are trying to achieve, what's the goal? We have been organising Hackdays at Lyst for a few years now, but we knew we had to do it differently this year.
Why are we doing this?
Work with people they don't usually get to work with
We wanted to encourage collaborating and working with people they might have not met yet. It used to be easier to meet people from different teams when we were often going to the office, but it was not possible, so how can we help with that? Additionally, some of our colleagues had started when everyone was working remotely, so they may not have met many people outside of their immediate team.
Encourage innovation and creativity
While we strive for creativity and innovation in our day to day, this is not always possible to achieve. Some of our roles may not allow much for innovation, and because the hackday was open to everyone this was the perfect opportunity to be creative in a safe and fun environment.
With these two goals in mind, making decisions on the how becomes much easier.
How it happened
Register for hackday
There was a form to register up until the Friday before Hackday week. Everyone regardless of seniority, expertise or skills was encouraged and welcomed to join.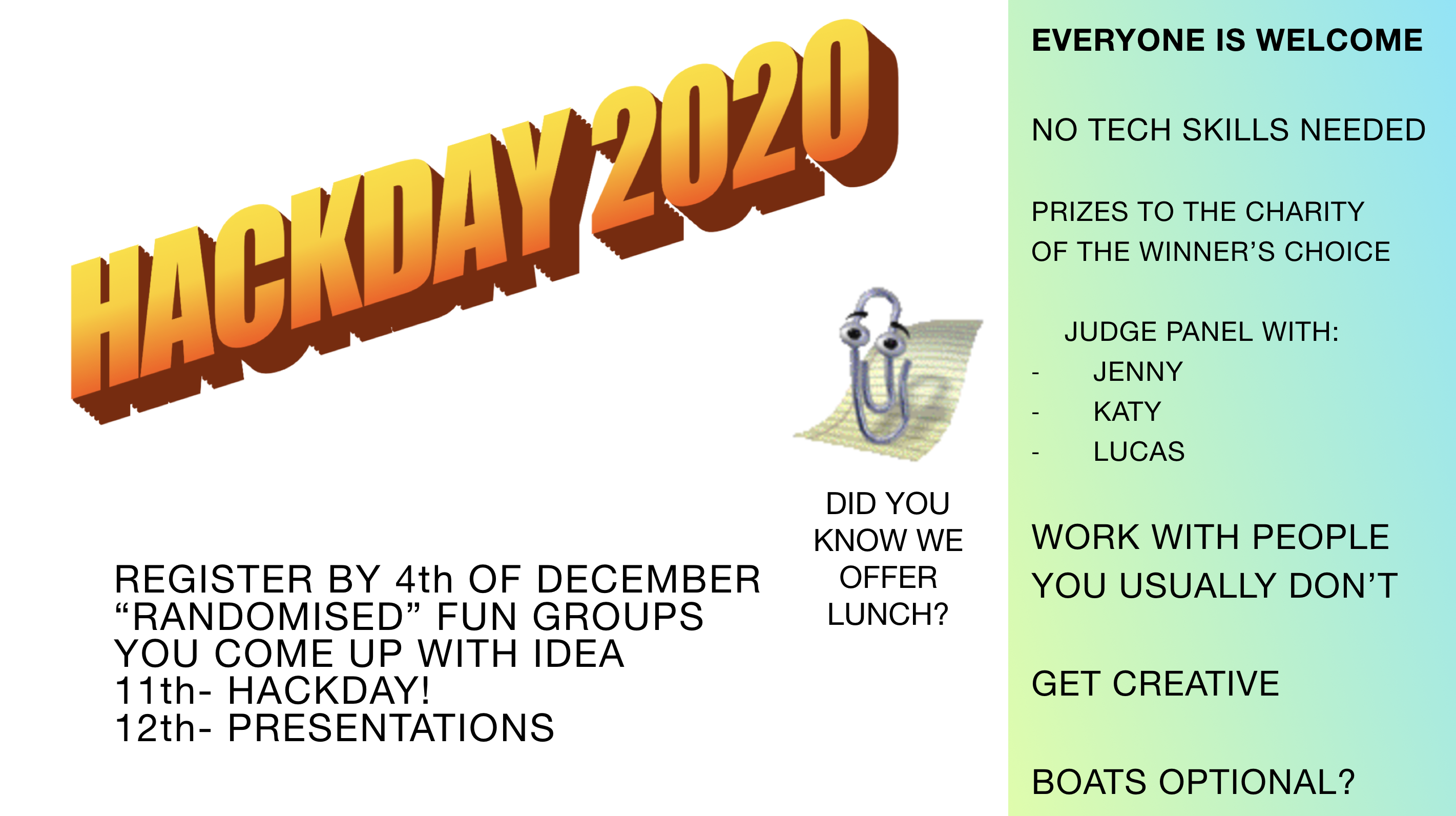 Team making
On the Monday before the hackday, the tech culture group made fun and balanced teams. Remember the first goal? Work with people they don't usually get to work with.
We made groups based on people from different teams and disciplines that we thought would balance out nicely. We wanted people to have fun and get to know each other while also being creative!
Idea generation
Every team then came up with what to do on the Hackday itself, and they also decided on the team name if they wanted to. We'll talk a bit more later, but we had ideas ranging from Alexa, to sustainability, to movies, to social media.
The hackday
Thursday. Hack. Hack. Hack! Teams were encouraged to meet all day on zoom and hang out together. Everyone who participated got a food voucher as well if they wanted those Hackathon and pizza vibes!
Presentations
The following afternoon we all did our presentations in a shared zoom call, with our three judges from the leadership team, including our CTO.
Every team had a few minutes and then time for comments and questions. One amazing thing that happened was that everyone was very active and involved in the chat, making jokes and discussing how this could be part of our core product. In a way, we got much more interaction than if we would have done it in person.
The prizes were a donation to the charity of their choice, and the winning teams chose Plastic Oceans UK and Greater Change.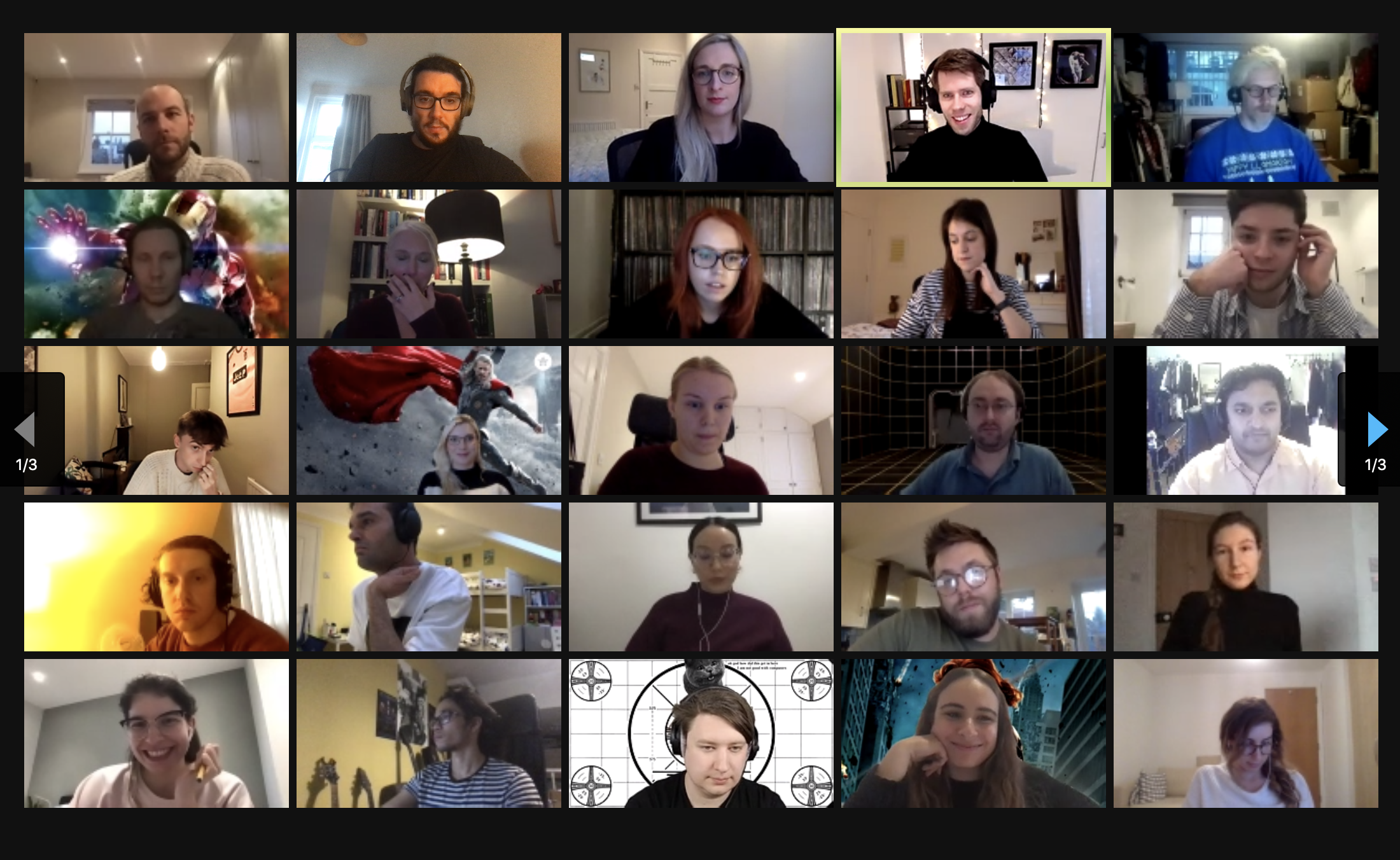 A sneak peek of the day…
About a third of our colleagues at Lyst participated on the hackday, and more than half the company attended the presentations. We had people from all disciplines and teams joining us and people who have been at Lyst for years and colleagues during their first week.
We can't share everything here, because some of the ideas might become a reality soon! Let's walk through some examples of what we did on that day.
What if…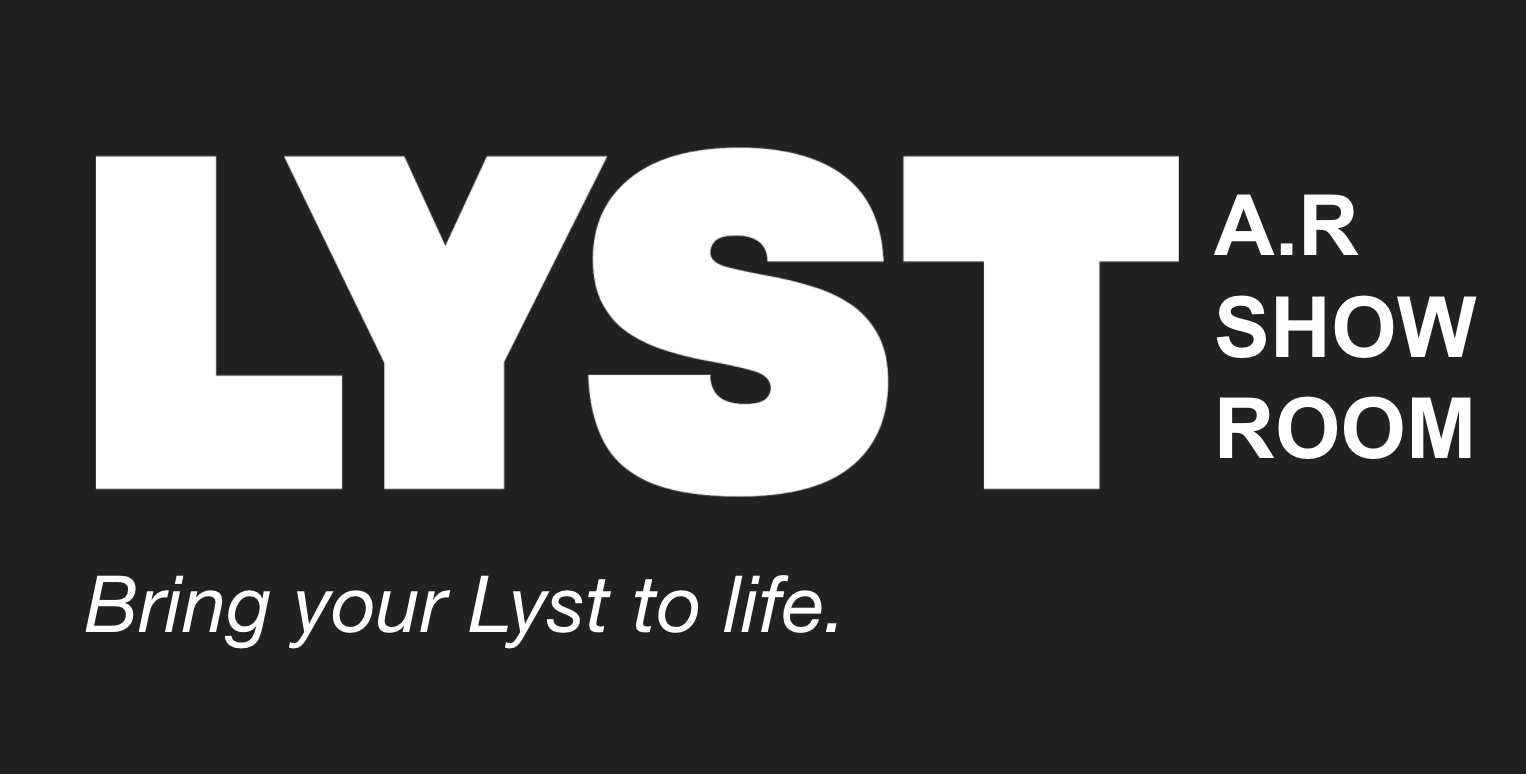 You can bring Lyst to your living room?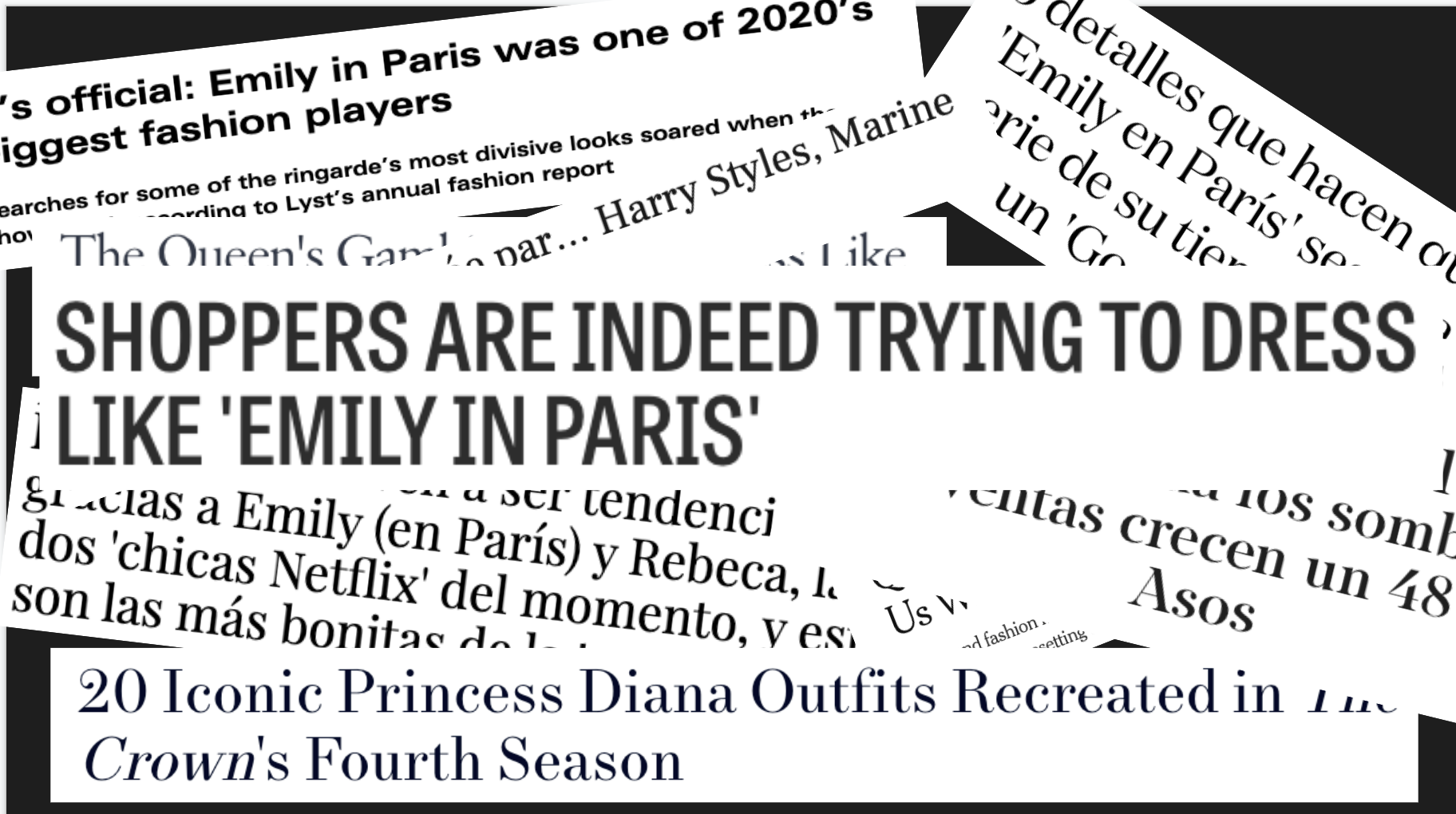 Or buy the latest trends?
Other teams decided to code sound
use_synth

:pretty_bell




live_loop

 

:scream

 

do


  

play

 

95

,

 

attack: 

rrand

(

2.5

,

 

3.5

),

 

release: 

rrand

(

2.5

,

 

3.5

),

 

amp: 

scream_volume


  

sleep

 

3




end



…or in this case, a scream, perfect when the site goes down!
Other teams went deep into product thinking and came up with ideas that may be part of the roadmap…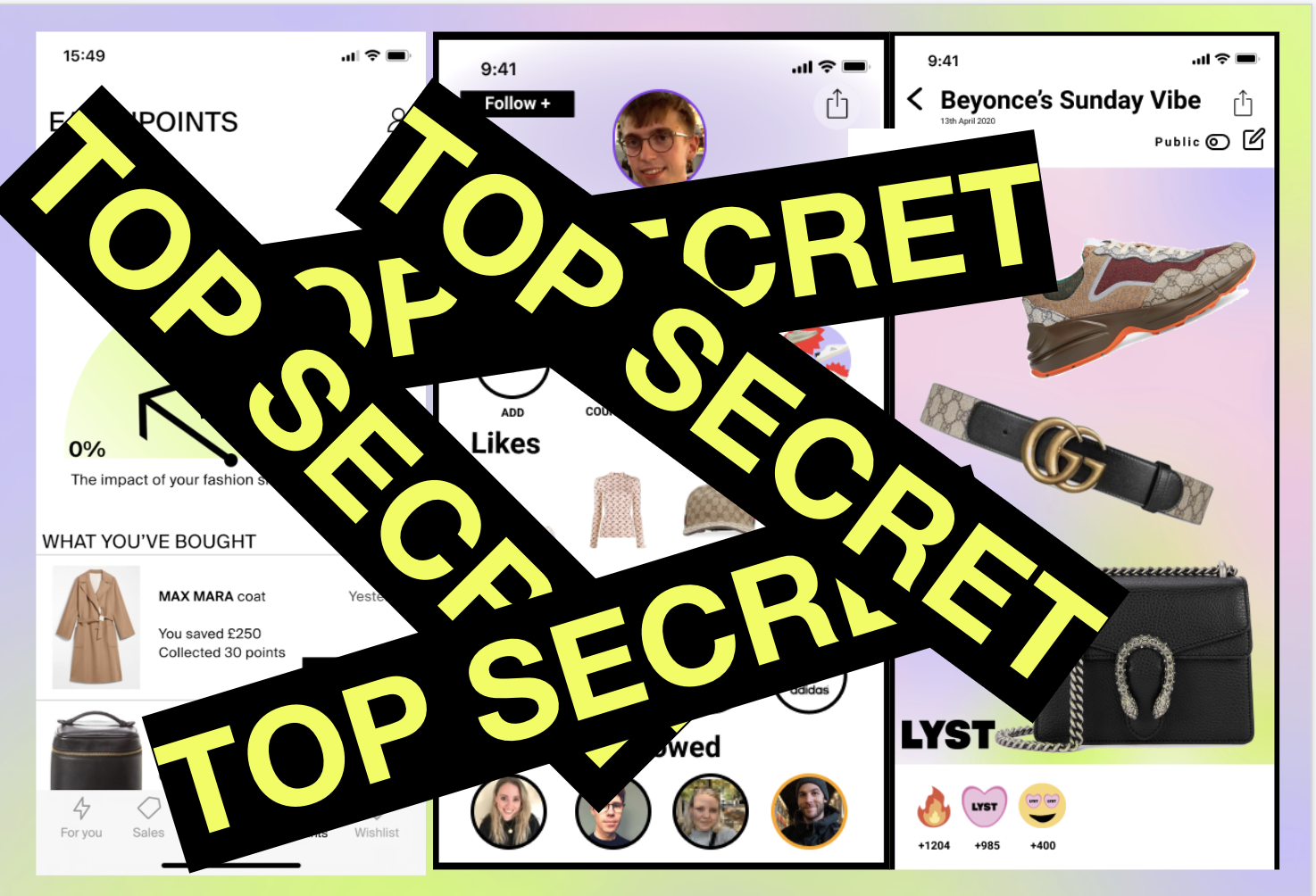 and many more! Thank you to everyone that participated! ✨